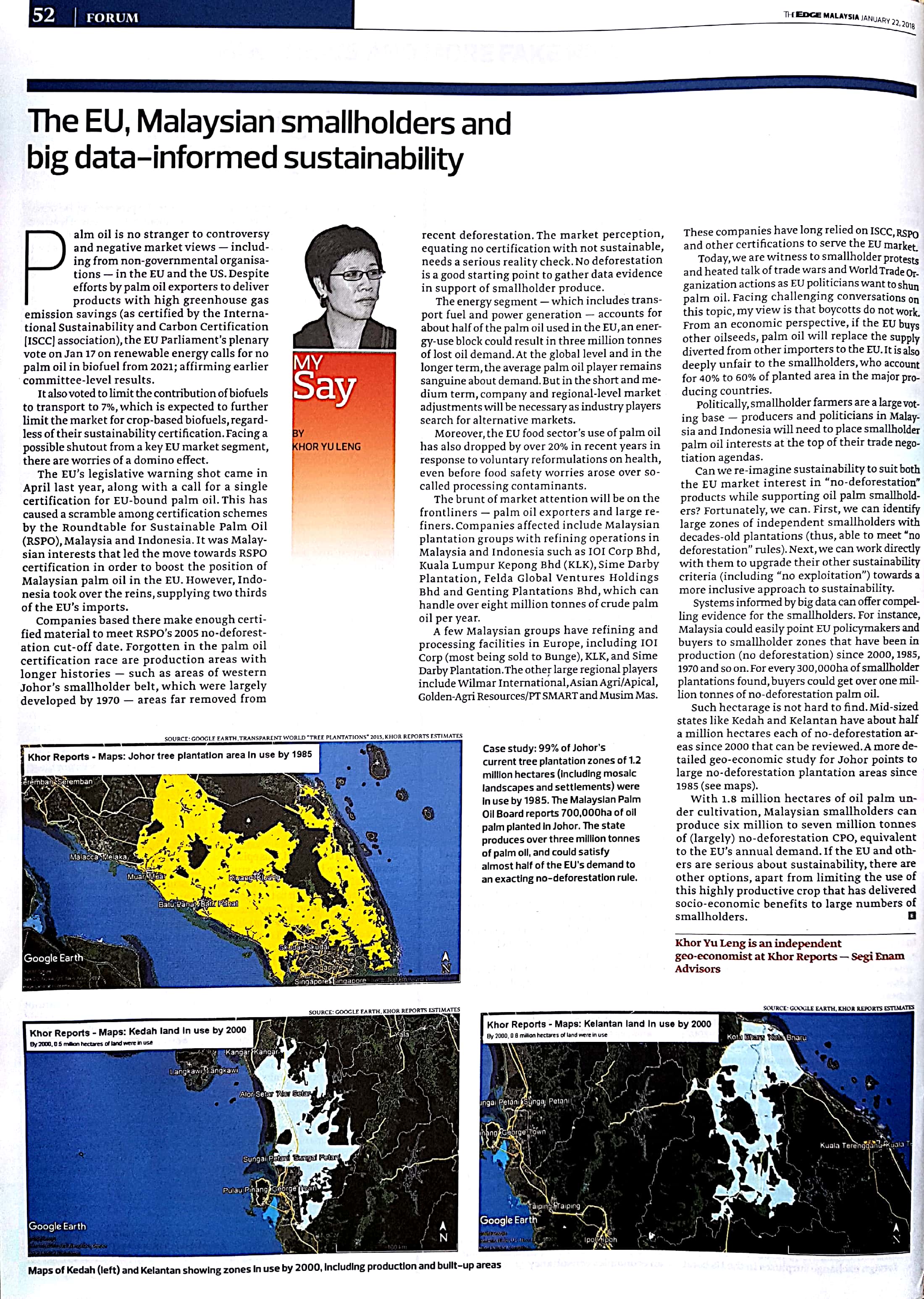 Geo-economics data published in The Edge Malaysia, The Edge Singapore, 2018
About
Khor Reports is brought to you by Segi Enam Advisors Pte Ltd, led by its principal, Ms Yu Leng KHOR.
Yu Leng is an Oxford University and LSE-trained business economist. She grew up in Mahathir's Malaysia and Suharto's Indonesia. She has worked in finance, agribusiness and infrastructure with a Southeast Asia focus; combining big data-geospatial analytics, social listening, deep-dive market intelligence and risk analysis in her work. In commodities her focus is sustainable supply-chains and trade. She is a political-economist on mobility and leads projects on culture and natural capital. She is Advisor to Jane Goodall's Roots & Shoots in Malaysia.
Yu Leng has several affiliations: at the Singapore Institute of International Affairs on sustainability projects; at Jane Goodall's Roots & Shoots Malaysia, at Institut Pondok Perancis, Kuala Lumpur. She was Visiting Fellow at the ISEAS-Yushof Ishak Institute of Singapore (2013), Research Associate at the Institute of China Studies, University Malaya (2017-2019), regional Research Head for agro-commodity economic consultant LMC International Ltd (2014-2017; advising Fortune 500 global brand names and commodity groups), and a lead economist on the 2017 palm oil study for the EU Commission. Yu Leng has articles and book chapters published about smallholder socio-economics, rural voting behaviour, China and regional development. Her latest research interests include: (i) the politics of floods and fires, (ii) the policy and big data evolution of sustainable supply-chains, (iii) Sino-ASEAN deals and China offshoring trends ("一带一路" 为东南亚).
She has presented her work to academia and business forums, and she is on expert panels for UNIDO, banks and fund managers (Singapore & Hong Kong). Her commentaries are featured in regional and international media outlets, including Channel News Asia. More interviews and commentaries are via my Linkedin Profile, article links.
THIS WEBSITE. This is Khor Reports' new home since 2018! We started a blog back in 2011, tracking the political economics of palm oil. At our new home, we are expanding our scope of inquiry towards questions related to geospatial, geopolitical, political economic, and sustainability data.
Website features:
Data & Analysis: A new home for the latest insights and reports

Products: Purchase our in-depth reports, maps, and data sets (under construction)

Blog: Continuing our tradition of bringing you critical news and views (under construction)

Archive: Home of our blogspots from 2011-2018 (February)
Subscribe to our newsletter for the latest updates and access to exclusive content!